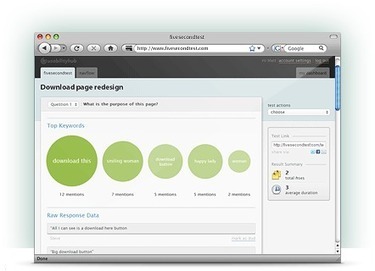 Fivesecondtest is an web-based service which allows you to fine-tune your landing pages and "calls-to-action" by analyzing the most prominent elements of your landing page design and asking to your invited "testers" a set of simple questions.
How it works:
1. Create a new test
Upload a screenshot or mockup, set some questions you want answered and wait for the feedback to roll in.
2. Users complete your test
Testers have five seconds to view your image and must then answer the questions you have set.
3. View your results
All of the responses are collected for you, the frequent keywords are extracted and then presented to you with beautiful graphs.
See a tour of Fivesecondtest: http://fivesecondtest.com/tour
Pricing: http://fivesecondtest.com/pricing
More info: http://fivesecondtest.com